Truckee River Raft Rentals ?
We are not the raft rental companY that operateS on the "float Section" of the Truckee River from Tahoe City to River Ranch Bar & Grill.
We only offer guided whitewater rafting trips on a section that is lower on the Truckee River towards the Nevada state line. Often times we are STILL able to operate when the rental companies are shut down. Either due to the water level being too high for them to float under the bridges, or to low for them to float over the rocks. If you are having trouble getting ahold of the Truckee Raft Rentals check with us for more information on water levels or other options for floating on the Truckee River.
2018 Truckee River Water Outlook
Water Flows on the Truckee River Look to be average this season. With a short "high water" melt off period then standard reservoir operations on the Truckee.
After a deep and wet Winter we saw huge flows all over California through the spring and early summer. After an amazing spring we are back to normal operations on the Truckee River and Middle Fork American River. The Truckee River will have Great flows all season and the Boca to Floriston section will have above average flows through September!Flows on the Truckee Full Day Trip and the Gorilla Falls Section are too low for rafting after June, but it is always worth calling to check on current river levels and trip availability.
Middle Fork American flows have also come back down to regular levels and we will have daily flows on the Tunnel Chute section all Summer.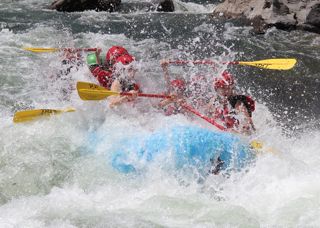 Truckee River Half-Day Rafting Trips
Truckee River Full-Day Rafting Adventures
Other Sections on the Truckee River
High Water levels on the Truckee River means more rafting trip options for you!
During wet seasons, not only will the standard Boca to Floriston "Lower Gorge" run on the Truckee River have water, there is also good flows on the longer Boca to Verdi full-day rafting trip through early summer. The Verdi to Reno "Gorilla Falls" Section (class II+) also has water during wet springs. While we do not typically operate on this section we are available to take large groups on this slightly easier section of the Truckee River.
Call to Check Flows!